Many of our participants have chronic or acute conditions that require the professional  intervention of physical, occupational or speech therapists.  We provide all those services right on site, through Spectrum Rehab Services, based in Northfield. Whether the condition is related to cerebral palsy, stroke, fractures, joint replacement, brain injury, arthritis, surgery or any other reason, Spectrum Rehab staff, in close coordination with Golden Heart nurses and the participant's physicians, develop a therapy plan and begin services.  The therapists stay in close communication with nurses and doctors as appropriate, assess improvements and modify the therapy plan as necessary for each individual.  Some might return to do more therapy after several months to ensure continued improvement. Joseph Bonczek, physical therapist and owner of Spectrum Rehab, treats Golden Heart participants two days a week, in a special rehab room at Golden Heart.  If required, we can transport participants to his nearby office where he has more extensive facilities and equipment. "The idea is to help those with chronic or acute mobility, range-of motion, muscle/joint function and other limitations, regain full use and maximum mobility.  We also focus on improving balance and coordination which is so critical for safe transfers to chairs, toilet, vehicles, etc., as well as for walking," Joe said.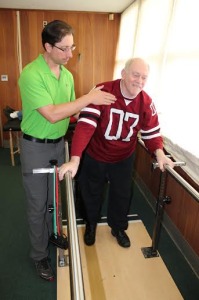 "Here is one of our Golden Heart success stories," Joe continued. "An 88 year old man had lost mobility due to an arthritic, deteriorating knee and was using a wheelchair.  Doctors said the only way to regain mobility would be having a knee replacement.  However, his overall medical condition precluded anesthesia and surgery.  Rather than relegate him to a wheelchair forever, and the predictable decline associated with that sedentary lifestyle, we spent two months in intensive PT.  He now walks slowly, using a walker, much of the time. He regained mobility, has an increased appetite and his overall health has improved, according to the nursing staff at Golden Heart."
RESTORATIVE NURSING PROGRAM:
  As an adjunct to the rehabilitation services offered by Spectrum Rehab, our Director of Nursing, has designed a customized restorative nursing program, "Movement to Music," so participants continue to KEEP MOVING after finishing their formal PT.   "We don't want them to lose the benefits, the improvements they made in PT but to retain them and possibly keep improving," Ann said.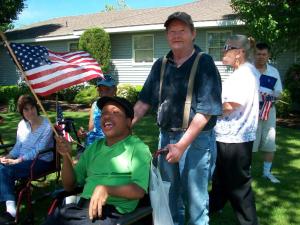 GOLDEN HEART ADULT DAY CARE, INC. 101 Shore Road Somers Point, NJ 08244 Phone: 609-788-0067
Fax: 609-788-0068   Email: info@goldenheartdaycare.com   

Alzheimer's Care; Elder Care; Respite Care;  Caregiver Support; Adult Day Care; Atlantic County, NJ; Somers Point, NJ